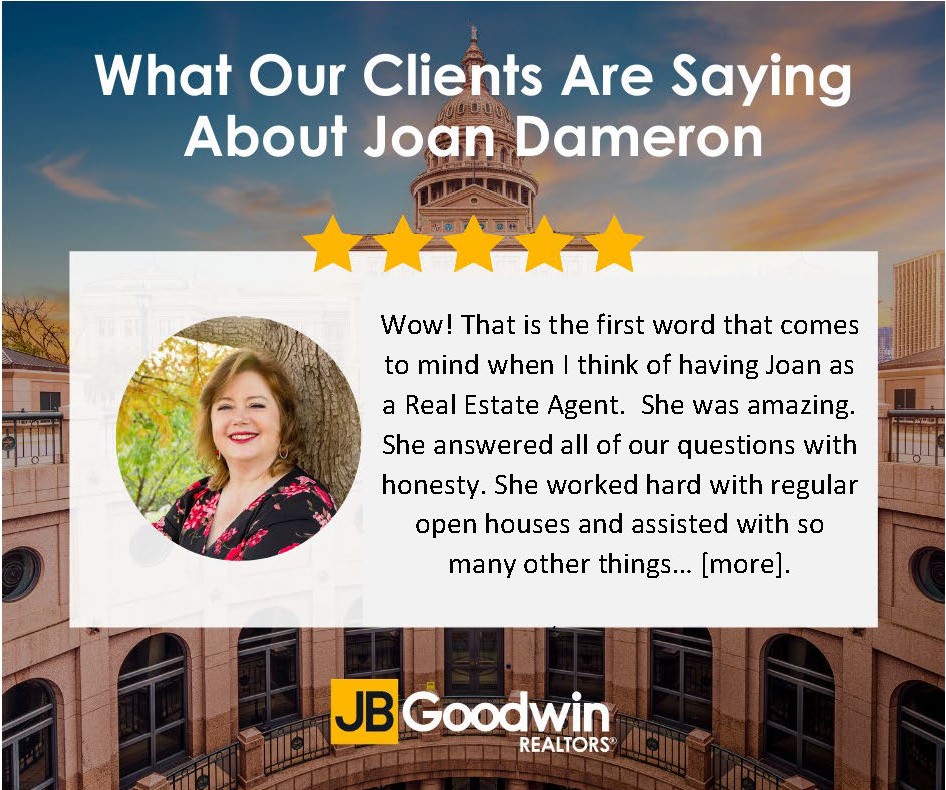 Christina & Jeff in Georgetown
"Wow! That is the first word that comes to mind when I think of having Joan as a Real Estate Agent. She was amazing. She answered all of our questions with honesty. She worked hard with regular open houses and assisted with so many other things. During our first conversation, I told her we were about 80% sure we only wanted to rent our property and 20% thinking about selling. Joan helped us get the property ready for "rent". She explained the benefits of both and had no issues if she was simply assisting us with getting a renter installed. Over the course of the next month, it became clear to us that selling was going to be the best route for us. Joan was a big reason for that. She explained the current market, comps, and the market trends. She took the time to tell us what to do to the property to improve it to get the best sales price, and she did! Once we were under contract, she worked even harder if you can imagine! She continued to show the property every weekend, checked on it regularly, and noticed that the AC wasn't working. She helped us by being at the property whenever the AC repairmen came by, she even stayed there until midnight the night before closing while the amazing AC tech (who squeezed us in after his day was over) was working and ensured the AC was cooling the home before leaving. If you are out of state, USE JOAN!!! If you are in state, USE JOAN! Just use Joan! I cannot recommend her enough. She is firm, but kind, straight forward and encouraging. She has everything you want in an agent. She has honesty, integrity, passion, and pursuit. I can't say enough good things about her!"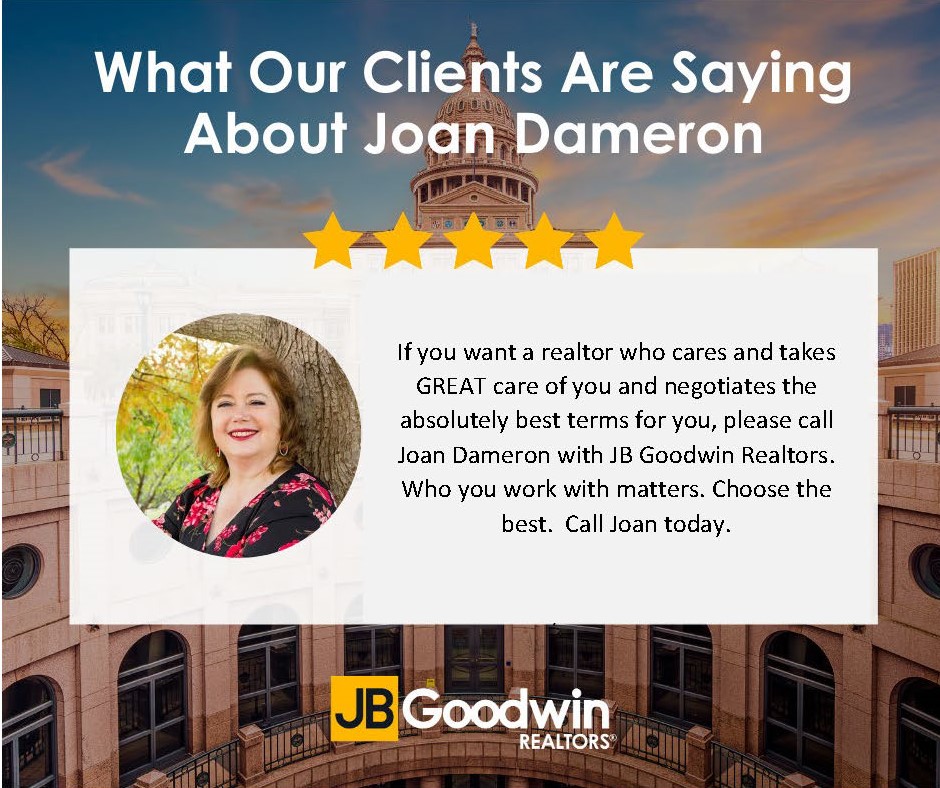 Ginger in Austin
If you want a realtor who cares and takes GREAT care of you and negotiates the absolutely best terms for you, please call Joan Dameron w JB Goodwin Realtors. Who you work with matters. Choose the best. Call Joan today.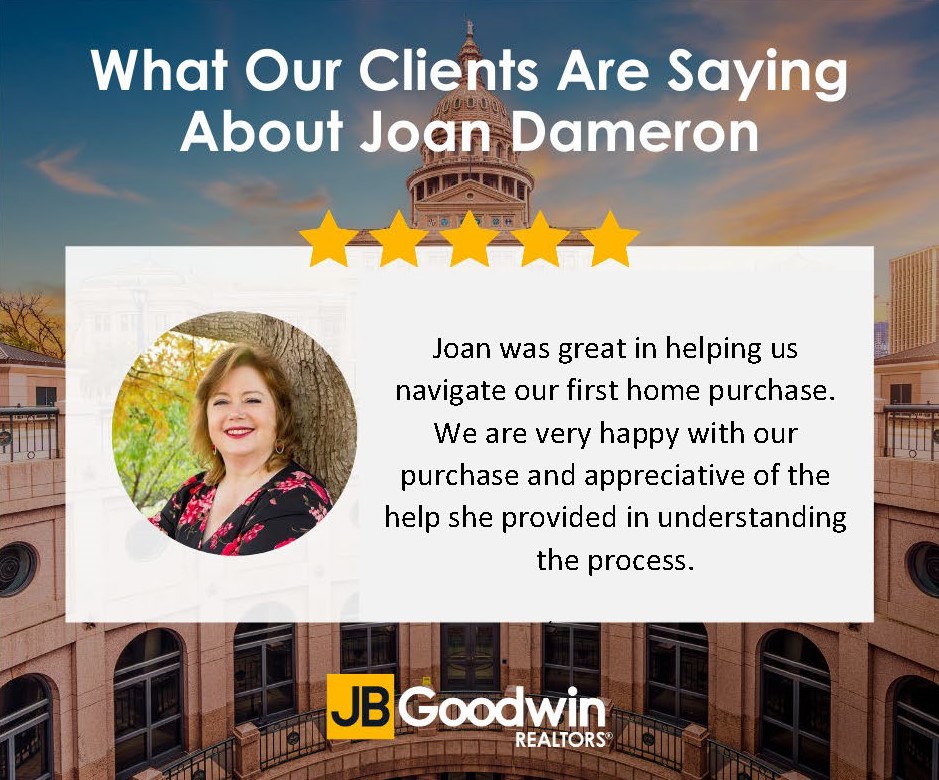 Elizabeth & Phillip in Smithville
Joan was great in helping us navigate our first home purchase. We are very happy with our purchase and appreciative of the help she provided in understanding the process.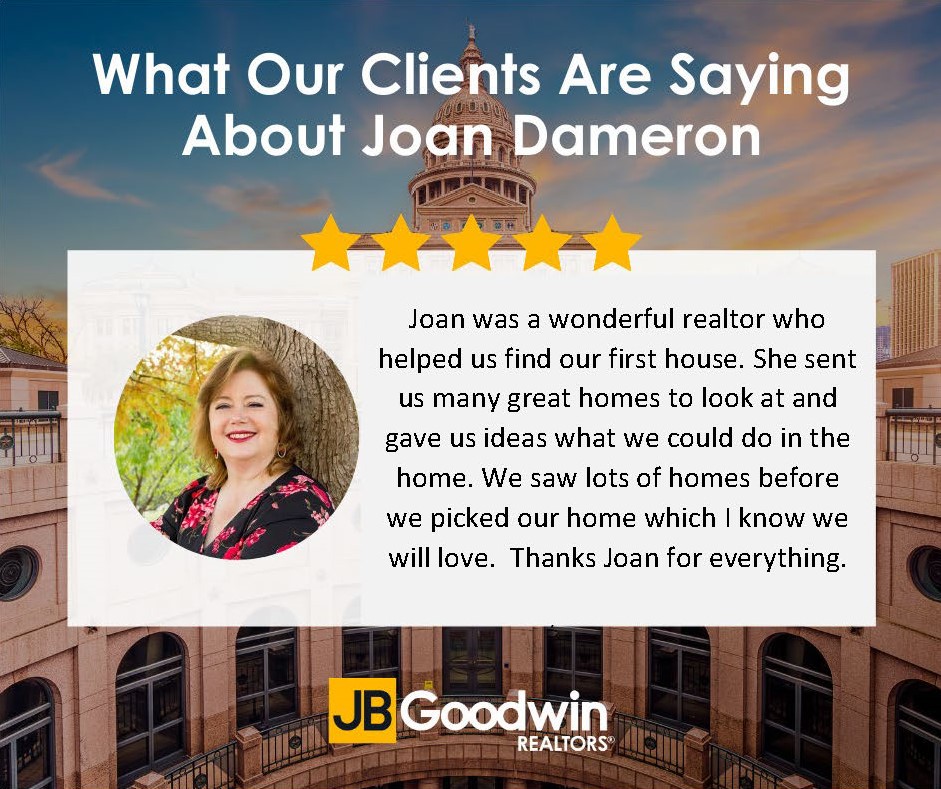 Josh & Shelli in Buda
Joan was a wonderful realtor who helped us find our first house. She sent us many great homes to look at and gave us ideas what we could do in the home. We saw lots of homes before we picked our home which I know we will love. Thanks Joan for everything.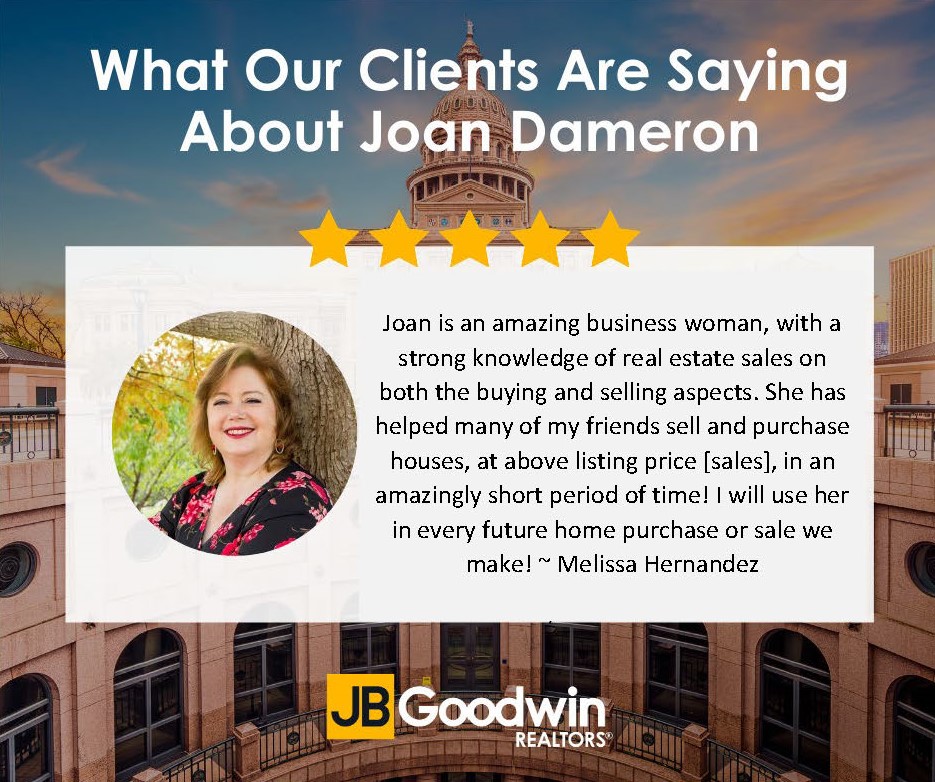 Melissa in Round Rock
Joan is an amazing business woman, with a strong knowledge of real estate sales on both the buying and selling aspects. She has helped many of my friends sell and purchase houses, at above listing price, in an amazingly short period of time! I will use her in every future home purchase or sale we make! Melissa Hernandez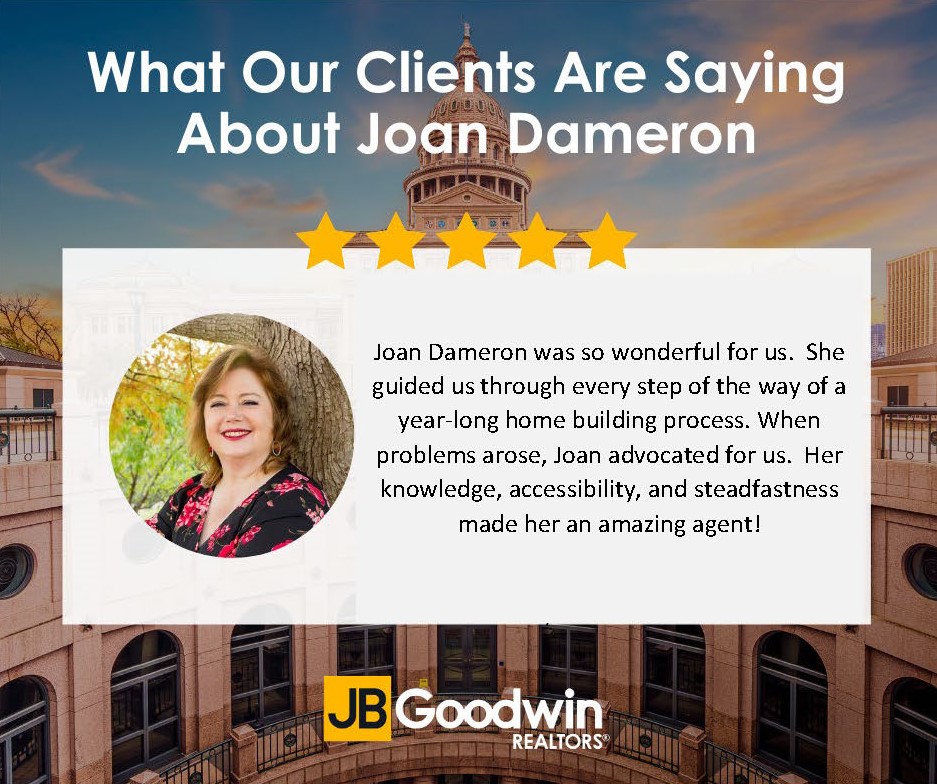 Yulia & Adam in Liberty Hill
"Joan was so wonderful for us. She guided us through every step of the way of a year-long home-building process. When problems arose, Joan advocated for us. Her knowledge, accessibility, and steadfastness made her an amazing agent!"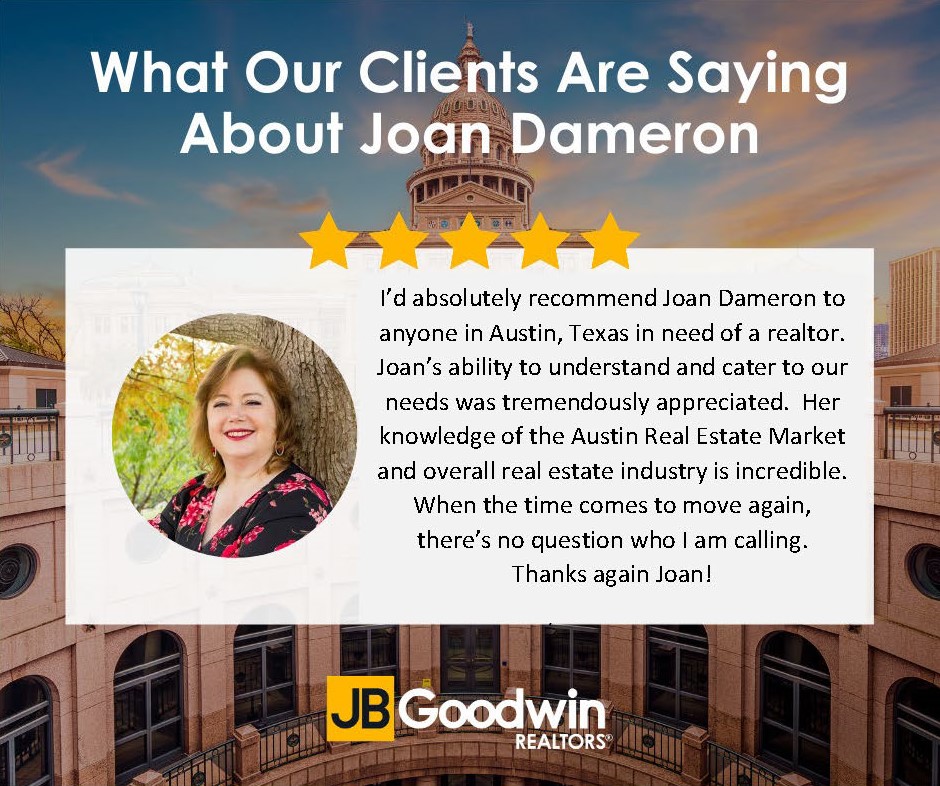 Ryan & Lisa in Leander
I'd absolutely recommend Joan Dameron to anyone in Austin, Texas in need of a realtor. Joan's ability to understand and cater to our needs was tremendously appreciated. Her knowledge of the Austin Real Estate Market and overall real estate industry is incredible. When the time comes to move again, there's no question who I am calling. Thanks again Joan!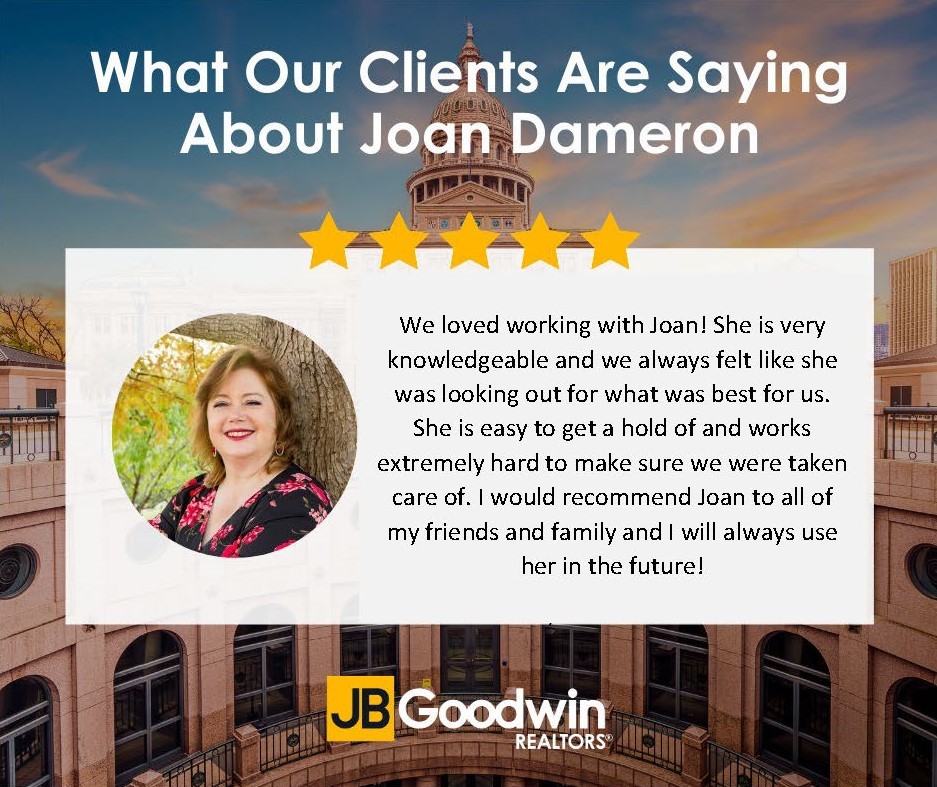 Trevor & Molly in Leander
We loved working with Joan! She is very knowledgeable and we always felt like she was looking out for what was best for us. She is easy to get a hold of and works extremely hard to make sure we were taken care of. I would recommend Joan to all of my friends and family and I will always use her in the future!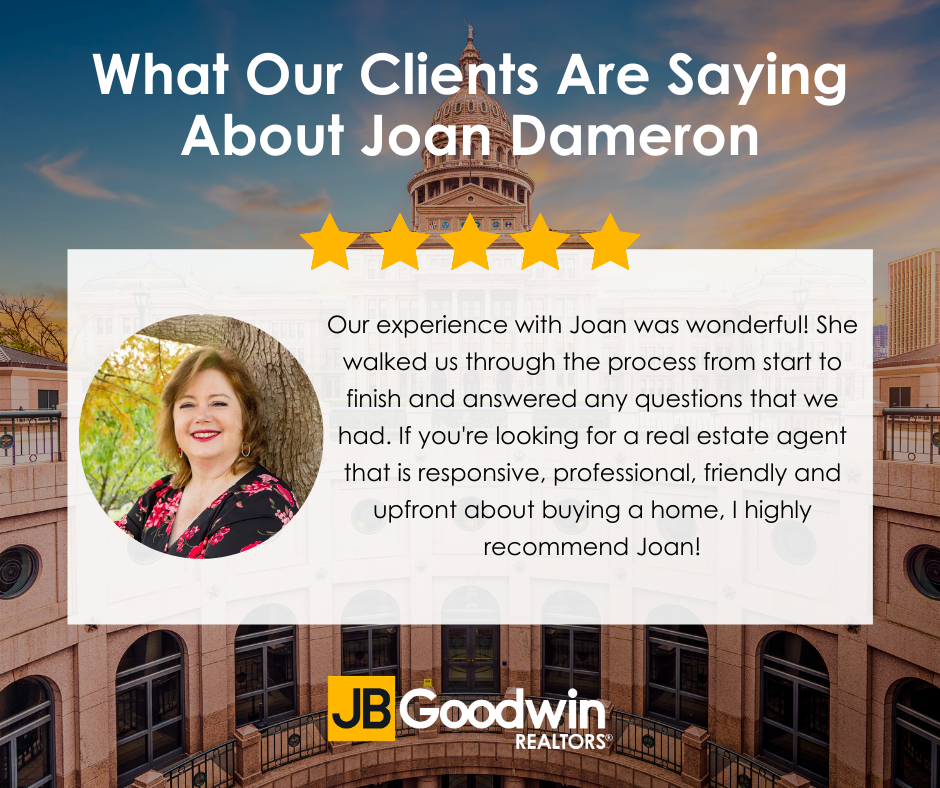 Sarah & Mike in Leander
New home purchase in Leander
Our experience with Joan was wonderful! She walked us through the process from start to finish and answered any questions that we had. If you're looking for a real estate agent that is responsive, professional, friendly and upfront about buying a home, I highly recommend Joan!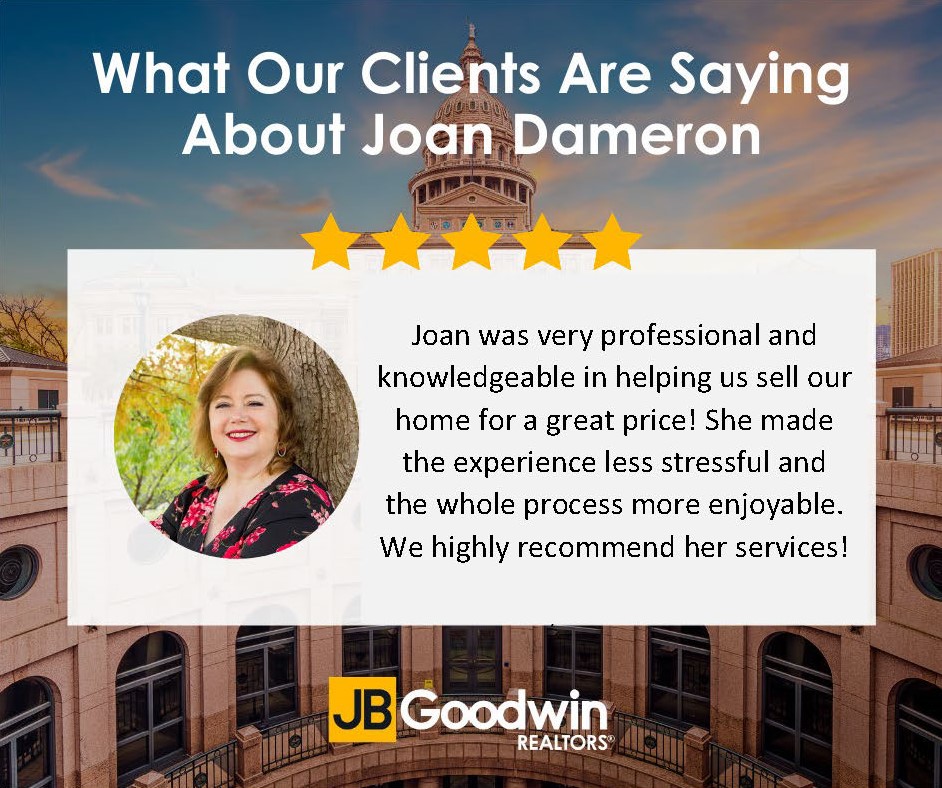 Chris & Kathy in Leander
Joan was very professional and knowledgeable in helping us sell our home for a great price! She made the experience less stressful and the whole process more enjoyable. We highly recommend her services!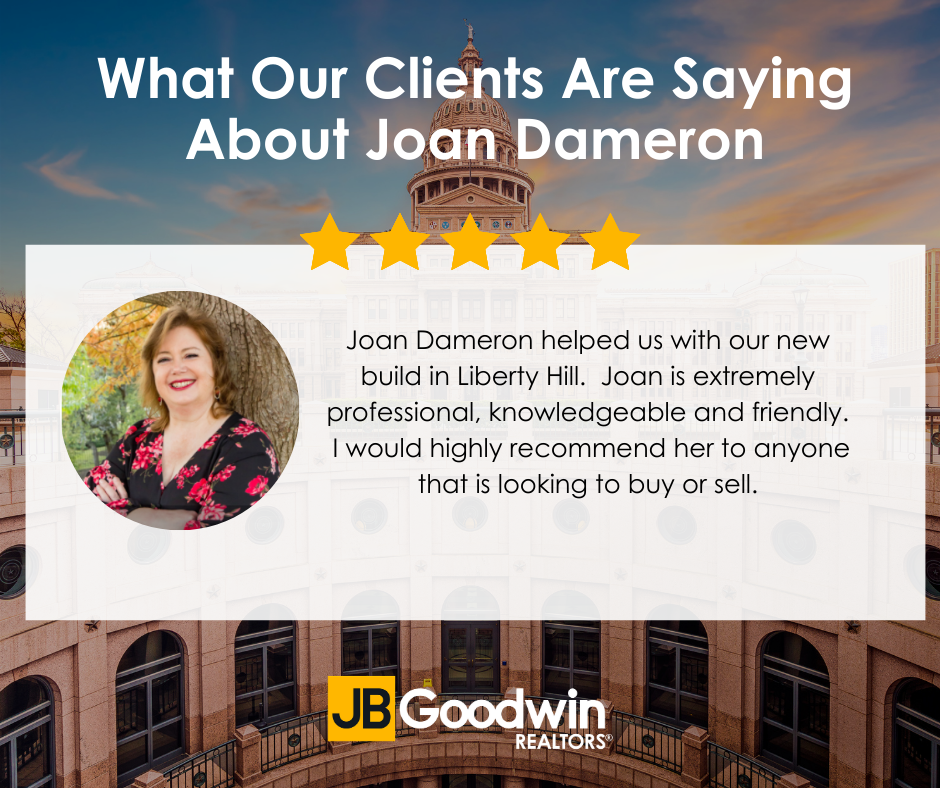 Michelle in Liberty HIll
Joan Dameron helped us with our new build in Liberty Hill. Joan is extremely professional, knowledgeable and friendly. I would highly recommend her to anyone that is looking to buy or sell.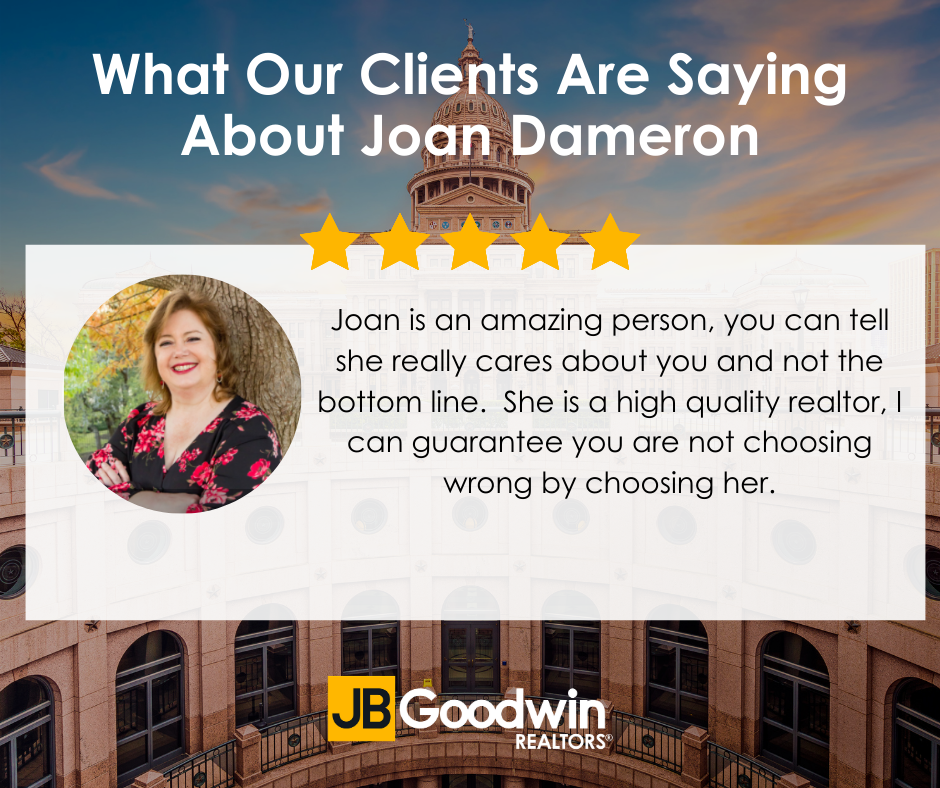 Tabby in South Austin
Joan is an amazing person, you can tell she really cares about you and not the bottom line. She is a high quality realtor, I can guarantee you are not choosing wrong buy choosing her.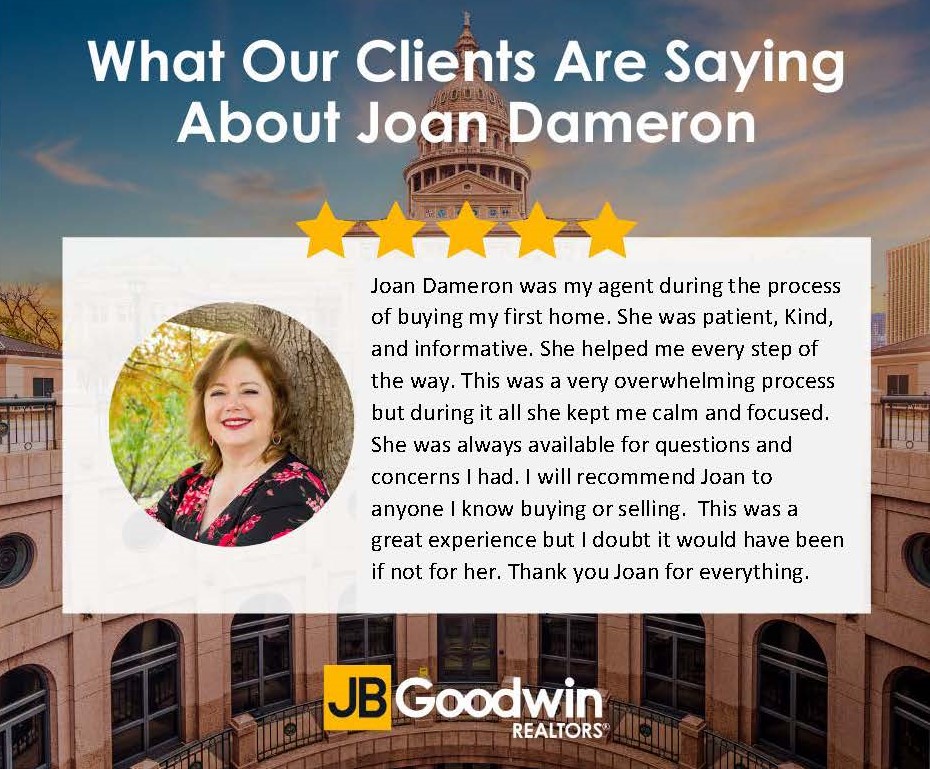 Ashley in Liberty Hill
First Time Home Buyer
Joan Dameron was my agent during the process of buying my first home. She was patient, Kind, and informative. She helped me every step of the way. This was a very overwhelming process but during it all she kept me calm and focused. She was always available for questions and concerns I had. I will recommend Joan to anyone I know buying or selling. This was a great experience but I doubt it would have been if not for her. Thank you Joan for everything.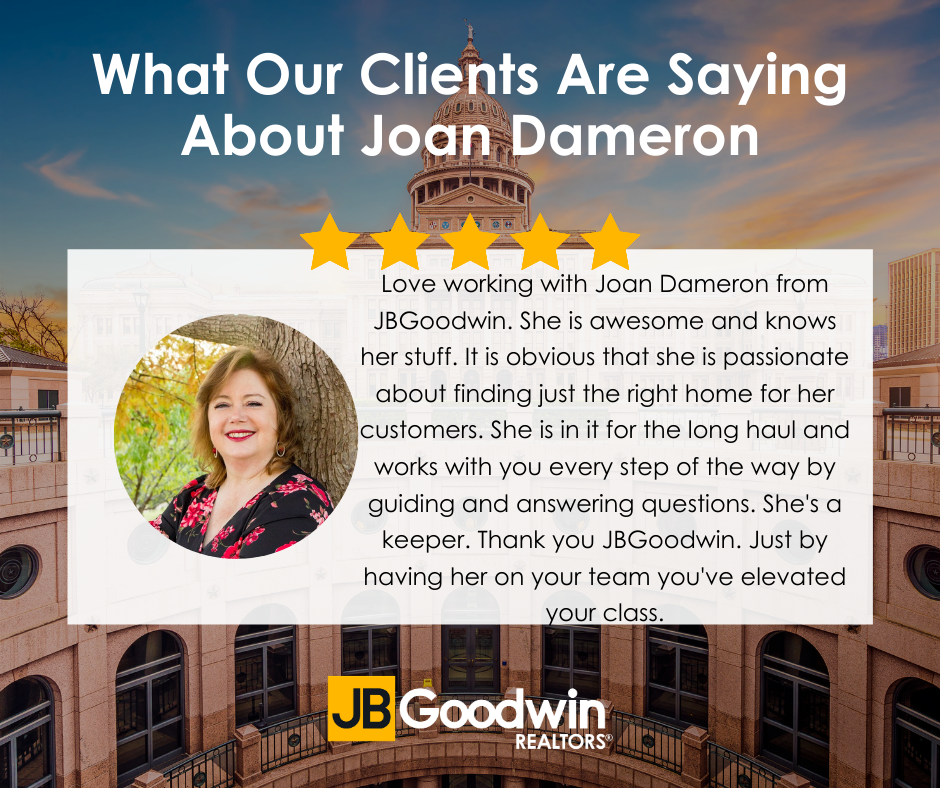 Brian & Jenny in Blanco
Multiple Undeveloped Lots purchase in Blanco
Love working with Joan Dameron from JBGoodwin. She is awesome and knows her stuff. It is obvious that she is passionate about finding just the right home for her customers. She is in it for the long haul and works with you every step of the way by guiding and answering questions. She's a keeper. Thank you JBGoodwin. Just by having her on your team you've elevated your class.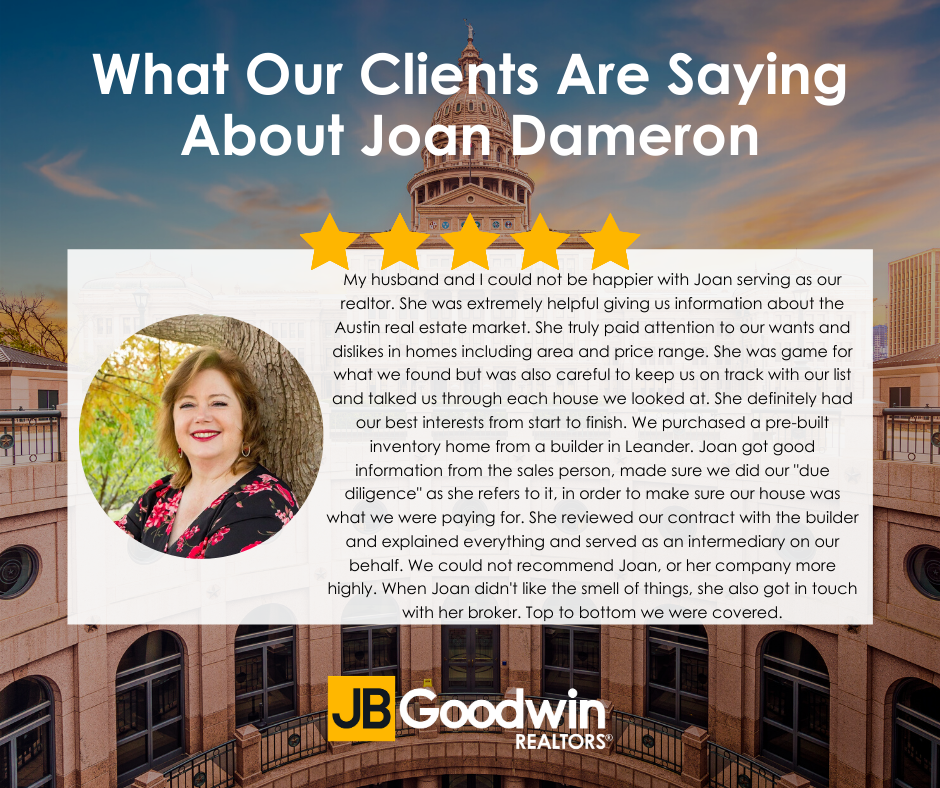 Kristen & Adam in Leander
New home purchase in Leander
My husband and I could not be happier with Joan serving as our realtor. She was extremely helpful giving us information about the Austin real estate market. She truly paid attention to our wants and dislikes in homes including area and price range. She was game for what we found but was also careful to keep us on track with our list and talked us through each house we looked at. She definitely had our best interests from start to finish. We purchased a pre-built inventory home from a builder in Leander. Joan got good information from the sales person, made sure we did our "due diligence" as she refers to it, in order to make sure our house was what we were paying for. She reviewed our contract with the builder and explained everything and served as an intermediary on our behalf. We could not recommend Joan, or her company more highly. When Joan didn't like the smell of things, she also got in touch with her broker. Top to bottom we were covered.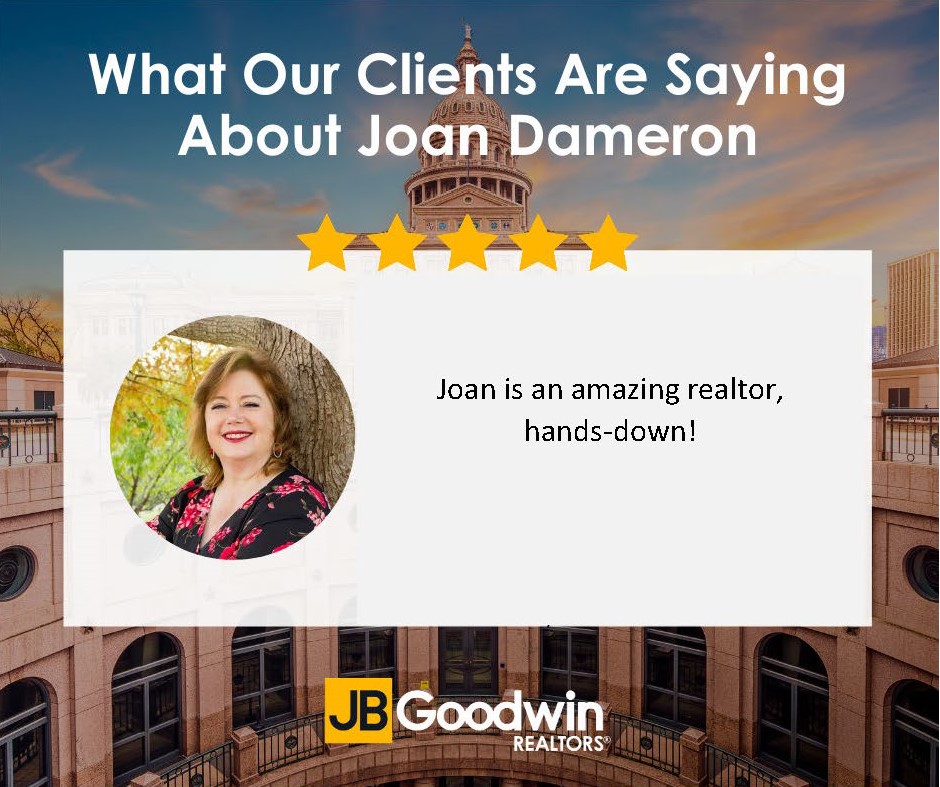 Michael in Cedar Park
Joan is an amazing realtor, hands-down!